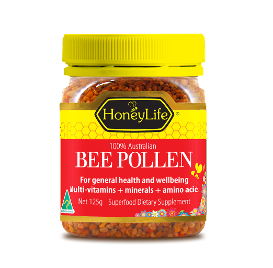 Honeylife Bee Pollen is a rich source of amino acids, the building blocks of protein, hence many people take some prior to exercising or working out for energy enhancement. It also has a healthy complement of all 22 amino acids, and is the only plant source to contain Vitamin B12, multi-vitamins, minerals, trace elements, carbohydrates and enzymes. Bee pollen is the most nutritionally rich of all produce from the bee hive. Bees collect flower bee pollen, then mix it with nectar and store it in special baskets on their hind legs. Bee Pollen - Nature's Rich Source of Amino Acids and Vitamins.
Ingredients: 100% pure natural raw Australian Bee Pollen. No fillers or additives. Directions: Take 1 teaspoon once a day. Take in water or juice, sprinkled on cereals or fruit, or mix in a shake.
Warning: This product may cause severe allergic reactions. If a reaction occurs, immediately discontinue use and consult a medical practitioner. Not suitable for children under one year of age. Do not use if cap seal is broken. Store in a cool, dry place after opening.